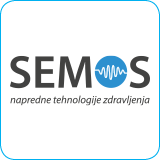 Semos d.o.o.
Semos provides a complete range of medical equipment programs: from help with purchasing and funding to a full repair after the purchase of the appliance or medical device. They also provide consumables and spare parts.
Http://www.semos.si/
Adecco H.R. Personnel consulting d.o.o.
The company is part of a large international group Adecco SA, the world's leading company for managing services in the field of employment and human resources management. The key purpose of Adecco's sponsorship and partnership policies is to support individuals and organizations in activities related to Adecco's field of expertise, based on the principle of "better work, better life".
Http://www.adecco.si